Star Wars – The one movie brand that has rounded up tens of millions of fans at the movie theaters around the world and a brand that keeps broadening its futuristic hold on all of us. With every new movie added to the franchise, there are even more gadgets and trinkets that fans recreate and add to their everyday life. This is what this article is all about and we are going to adventure into this endless abyss and check out a few amazing creations that fans have created in order to satisfy their fandom needs.
Before we begin, if you know of more items, gadgets, and creations that should be added to this list, don't hesitate to add a comment in the comment section below and we will take a look at it. After all, we need to make sure Star Wars fans around the world know where to find the latest and greatest of all things Star Wars. Now, let's get started!
1. Star Wars Droid, Chewbacca & Death Star Bean Bags
These comfy kid-sized bean bag seats are the perfect galactic addition to any room's decor. Created with snuggles and relaxation in mind, these bean bags feature the iconic Star Wars™ character, BB-8, R2-D2 and, of course, the Death Star. The playful slipcover zips off for easy cleaning.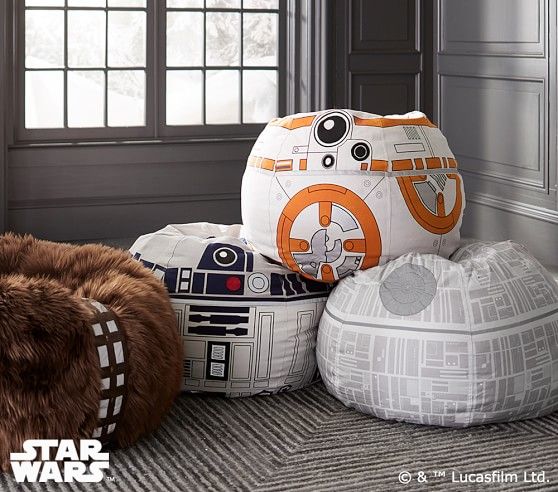 2. Star Wars Tie Fighter LED Light-Up Desk
If you are not sure what desk to choose from your room then perhaps this Tie Fighter LED light-up desk is the perfect choice for you. It can come in any color to match your room and ambiance and it's the perfect conversation starter. However, remember, choosing the dark side will come with a few setbacks.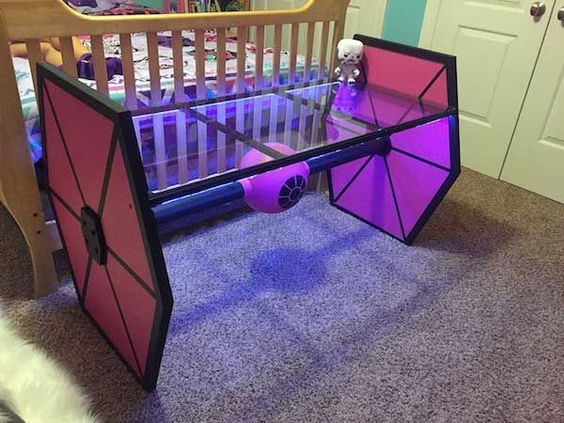 3. Star Wars Millennium Falcon Cockpit Bed
Yes, it's actually real! No longer do you need to dream about piloting the amazing Millennium Falcon through the galaxies. Just plonk down the cash and take it home to impress your friends, it's that simple. Sleeping in this bed you will always dream of foreign star systems and adventures that are fit for a true Star Wars fan.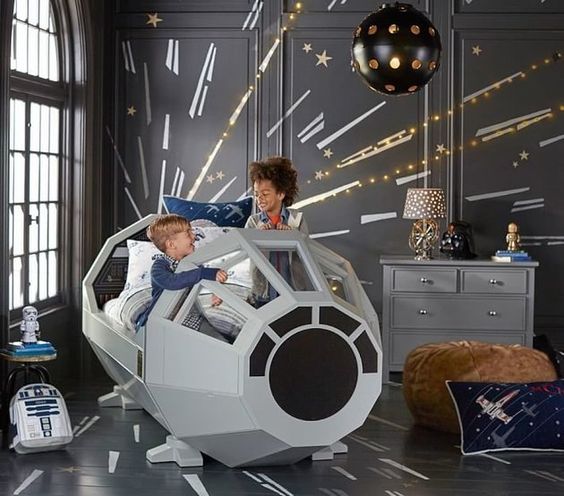 4. Star Wars Gonk Droid Laundry Hamper
Stop putting your dirty laundry in that boring plastic hamper that you got from IKEA. This awesome Star Wars Gonk droid laundry hamper will make sure your clothes are always safe from whoever tries to steal them from you (is that even a thing?) Putting this somewhere in your house is not only a way to store your dirty laundry, but it is also a great interior design piece that is sure to grab your guest's attention.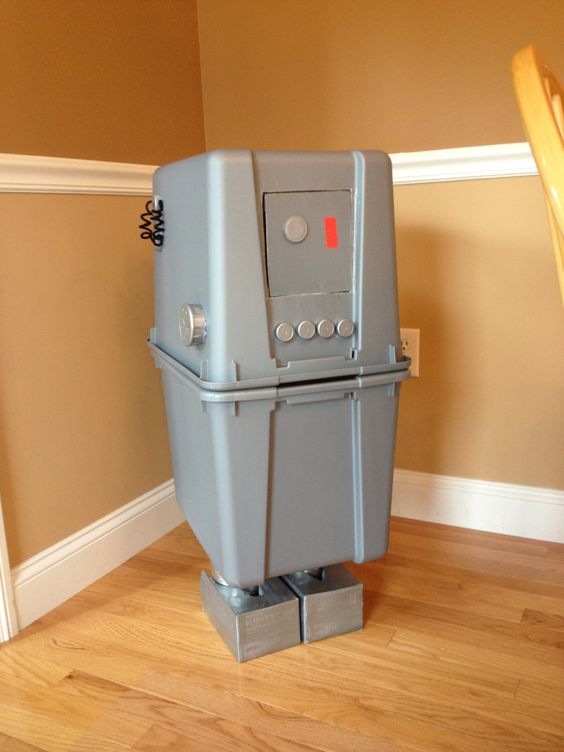 5. Star Wars R2-D2 Fish Tank
It is a common thing for humans to get an animal to live side by side with them for as long as they are able to. What could then be better than to get an R2-D2 fish tank to "awesomize" your home? If you are a true Star Wars fan, then this R2-D2 fish tank is a must in order to show people you mean business with your fandom.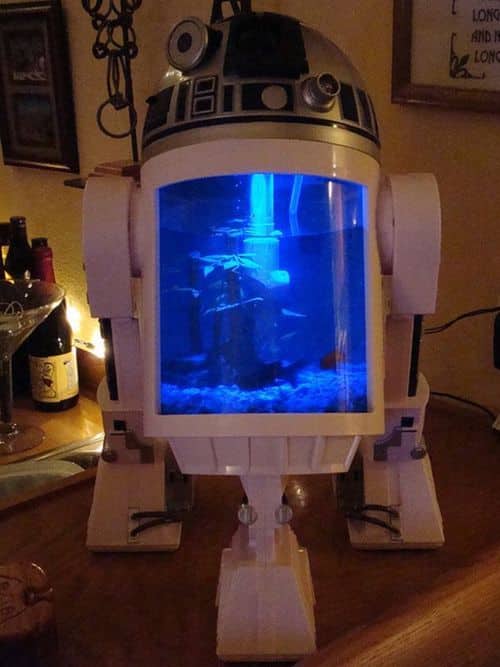 6. Star Wars R2-D2 Dresser Cabinet
Getting furniture to your new Star Wars home can, of course, be quite laborious if you don't know what to go for. Finding the right pieces of furniture can also entail a lot of energy being spent (that could be used to power your lightsaber, of course). Why not take the easy choice and go for this R2-D2 dresser cabinet. have you ever seen something as beautiful as this bad boy?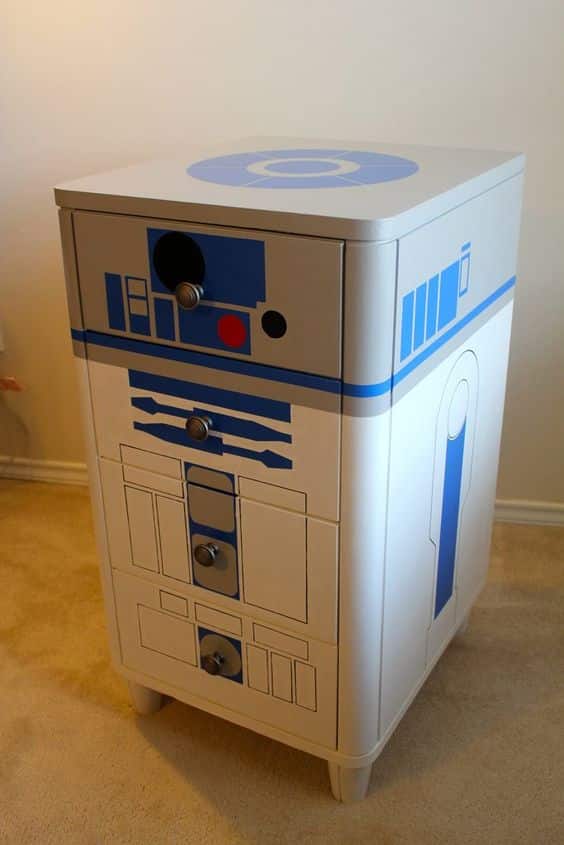 7. Star Wars Millennium Falcon Coffee Table
Pimpin out your living room is perhaps the most fun endeavor of moving to a new place and what could be more exciting that to put an awesome Millennium Falcon coffee table as the centerpiece in the room? Am I right, or what? This piece is just too cool for school and should be the crown jewel for any true Star Wars fan.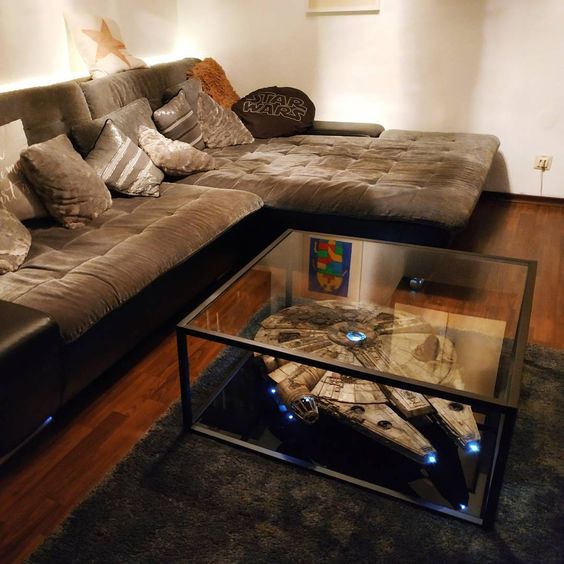 8. Star Wars X-Wing Dagobah System Terrarium
This piece, perhaps the most amazing item on this list, would add an insane amount of brownie points to any Star Wars fan pulling it off. This X-Wing Dagobah System terrarium is just insane and to have a few critters roam around in there would only add to the ambiance of it all. Just amazing!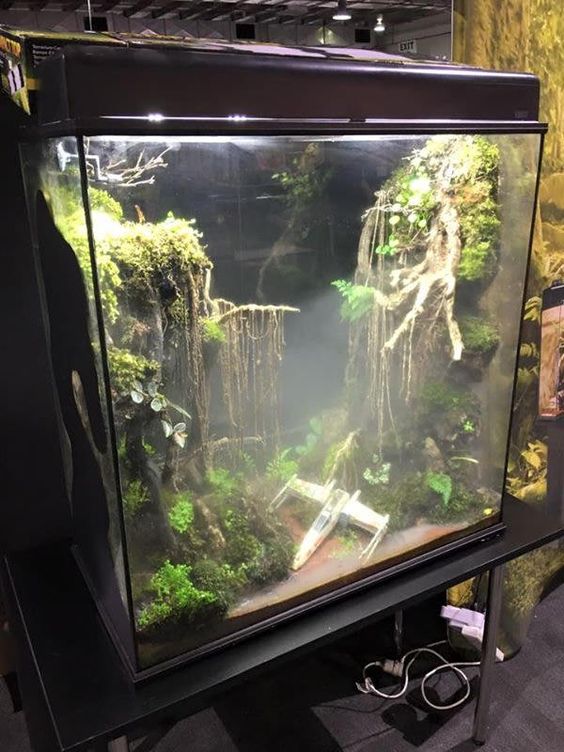 9. Star Wars Characters Bathroom Shower Tile Design
Of course, we need to show the bathroom a bit of love as well, right? If you are remodeling your bathroom, then what could be better to show off your Star Wars fandom more than adding a bit of character pazazz to it? Check out this amazing Star Wars character shower tile design! Surely, it will breathe some energy into your day every time you take a shower.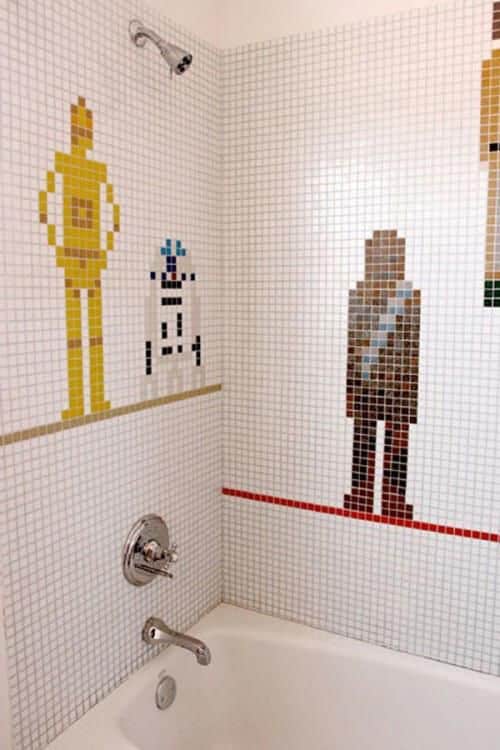 10. Star Wars Jedi Master Bunk Bed Design
If you want to sleep like a true Jedi Master, then this amazing bunk bed design is exactly what you should go for. Being a huge Star Wars fan myself, I am ashamed to admit that I don't know the name of this ship so if anyone knows it, please leave a comment in the comment section below, and we will add it to the sub-title. Thanks!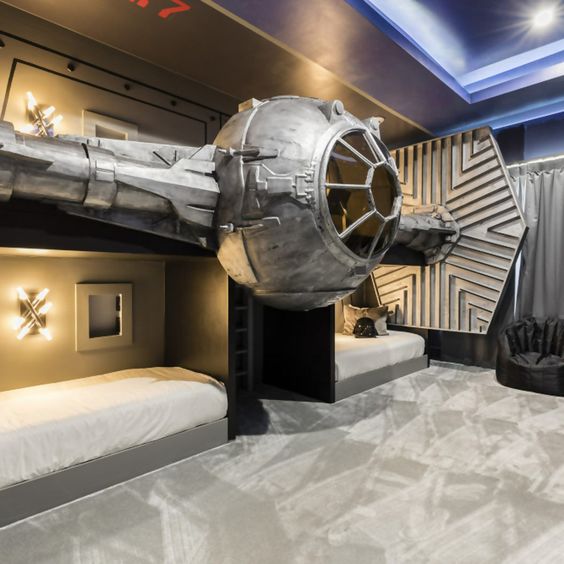 11. Star Wars Millennium Falcon Mirror
No room is complete without a mirror somewhere in it. This is why we have included perhaps the most iconic mirror you can find for your Star Wars-themed home. Behold the amazing Millennium Falcon mirror. If only looking into it would reveal your future powers as a Jedi fighter.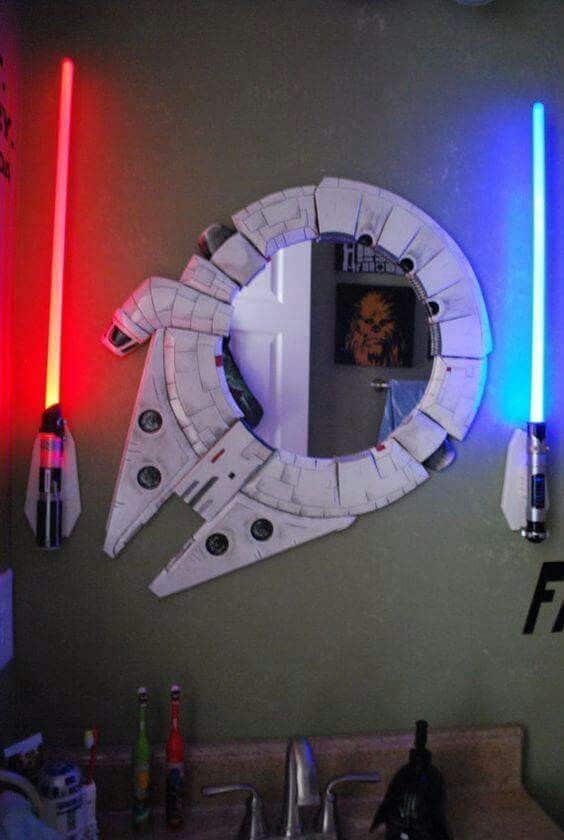 12. Star Wars Tie Fighter Desk Lamp
No desk is complete (especially the Tie Fighter LED Light-Up Desk above) without a Tie Fighter desk lamp. This geeky creation will shed some light on your future plans of becoming a Jedi Master and, of course, also bring a bit of light to doing your homework. – Buy it here at Amazon!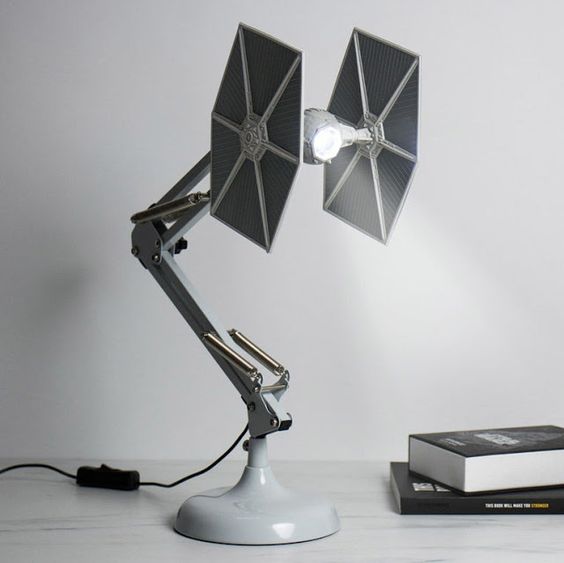 13. Star Wars Landspeeder Bed
If you are looking to go to sleep fast, that can only be done with the power of the Star Wars Landspeeder bed. Designed based on the real Landspeeder from the Star Wars movies, this creation will have your kids look forward to going to bed instead of trailing the hallways telling you they are not the slightest tired.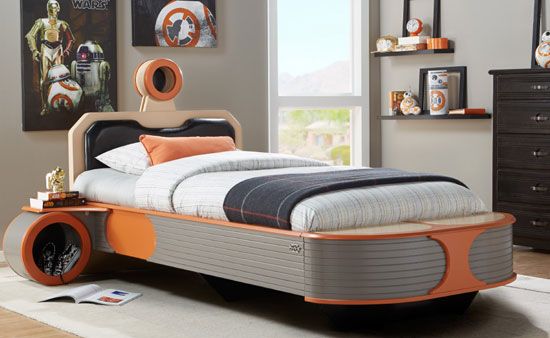 14. Star Wars Darth Vader Grill
For the outside, this Darth Vader grill is just the thing to make a statement. Your neighbors will instantly know you are not to mess with, and you will have them in a chokehold when it comes to who has the most original barbecue gear. Don't forget to invite them over to further show them how awesome it is.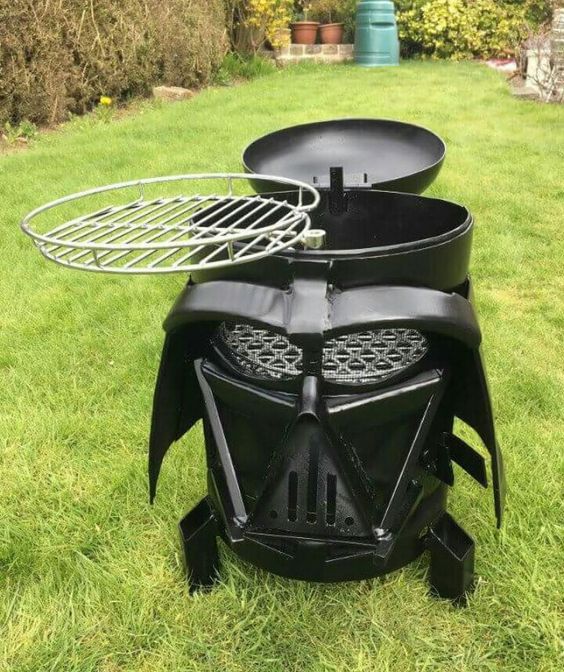 15. Star Wars Darth Vader Metal Lamp
If you are looking to further add to the dark side theme of your home then you just have to get this Darth Vader metal lamp sculpture that will make for an amazing centerpiece. It's solid and will definitely add flavor to your already decked out Star Wars home. It's a real statement to say the least.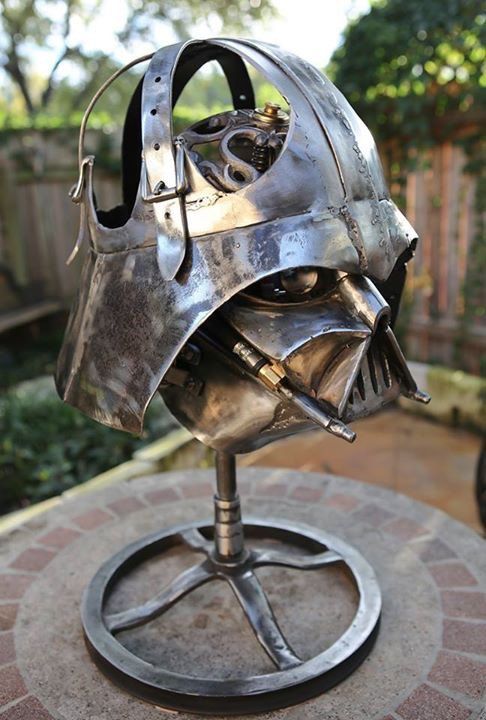 16. Star Wars Character Coffee Cups
If you are to invite friends and loved ones to your, by now, decked-out Star Wars home, then you, of course, need to have the coffee cups to match it all. These Star Wars character coffee cups should definitely do the trick, and everyone can choose their favorite character to enjoy their java from. – Buy it here on Amazon!
17. Star Wars AT-ST Walker Baby Chair
If you have a toddler at home then you, of course, need to show that little bundle of joy a bit of love as well. How about a pimped-out AT-ST walker baby chair to make that little one feel like they own the world. Nothing wrong in showing him/her how you take on the world as a true Star Wars fan.
18. Star Wars Dark Side / Light Side Light Switch
You're a huge Star Wars fan, however, you're having trouble choosing what side to join. Well, no worries, with this Dark Side / Light Side light switch, you will be able to switch sides whenever you turn on or off the lights in your home. See, a little bit of cleverness, and you don't have to choose, ever. – Buy it here on Amazon!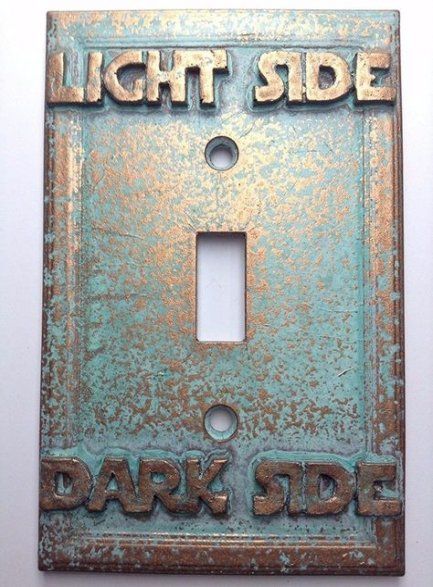 19. Star Wars Millennium Falcon Rug
No home is complete without rugs. That's why we had to include this highly eye-catching Millennium Falcon rug that will accentuate that Millennium Falcon coffee table (earlier on this list) perfectly. Stop looking for that rug that will match the couch, but you will never find. Instead, choose the one calling your name, a true Star Wars fan. – Buy it here at Amazon!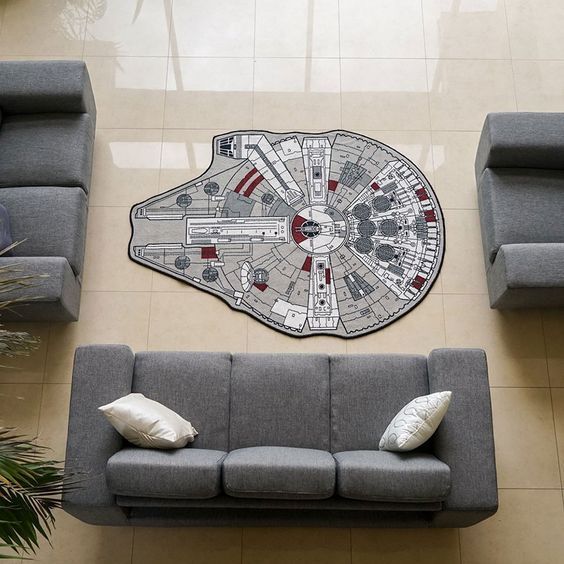 20. Star Wars Chewbacca Couch
Let's complete this list with the epic Chewbacca couch. Perhaps the hairiest piece of interior design item on this list. If you have long hair, sitting in this couch might make you flip it more than once not knowing if it is yours or the couch. Either way, getting this one you will always know Chewbacca has got your back, literally.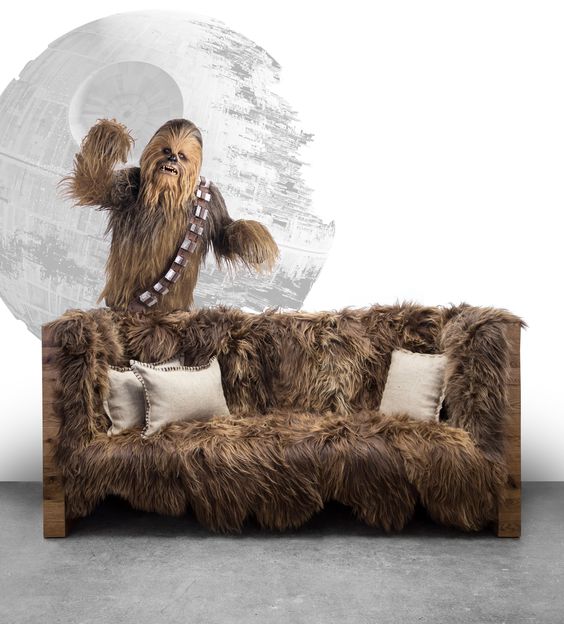 If you are interested in even more lifestyle-related articles and information from us here at Notilizer, then we have a lot to choose from.