Everyone is talking about the next big thing in technology and mostly it's all about electrical vehicles. Tesla, Volvo and a whole lot of other brands are currently racing to put the first fully autonomous vehicle on the roads. However, no one is talking about other vehicles that might become the norm of the future.
I am talking about the enormous mechs that we have seen in video games and movies for so long. Well, to jump straight to the point, they are coming, in a big way. Several teams around the world are currently working on their own life-size bipedal mech "suits" that you can actually drive. They are everything you dreamed they would be and more and in this article, we are going to take a look a few of them that we know of.
Mehtod2
The first mech suit we are going to have a look at is the Method2 from Hankook Mirea Technology. It's a massive 13-foot, 1.5-ton bipedal mech suit that you can drive. It's perfectly balanced and when it walks it shaking the ground beneath you in a way that you have not experienced before. The founder, Yang Jin-Ho, has so far spent over $200 million of his Internet entrepreneurship earnings to realize his dream to create a real-life bipedal mech suit.
Prosthesis
Created by Furrion Exo-Bionics, this mech suit model is a beast to be reckoned with. Towering 15-feet tall and weighing in at over 8,000 pounds, this mammoth is created as a battle robot meant for a racing league. Once activated, it will strike fear into even the most battle-worn people, and once it starts walking, the earth will rumble between its feet. It's a sight to be seen and one you will never forget. If first impressions won, this one would be the champion for years to come.
Kuratas
Taking heavy inspiration from Gundam robots, Suidobashi Heavy Industry has created Kuratas, a 13-foot diesel-powered mech robot suit that will set you back a cool $1.35 million. It weighs in at 4.5 tons and it comes fully equipped with 6,000 round-per minute BB gattling guns. If you are looking to recreate a particular movie scene or just have a cool $1.35 million laying around, then Kuratas is definitely a candidate.
MegaBot MKIII
Standing 16-foot tall when fully erect, MegaBot MkIII from MegaBot Inc. is perhaps the most insane robot of them all on this list. Created to battle other robots, MegaBot MKIII weighs in at a cool 6 tons. Officially challenging other robot makers to battles, the MegaBot MKIII has seen its share of battle. Question is, however, who would have the guts to stand against this massive hunk of steel next and what about MegaBot MKIV?
If you know of any more amazing and earth-shattering real-life mech suits you can actually drive, please leave a comment in the section below and we will definitely add it to this list. Now the question is, will we all be driving mech suits in the future instead of cars? Will they be autonomous? Where is it all heading and will robots eventually take over the earth? – Sorry, went a little too far there. Anyway, be sure to come back to this space to see if we have added any other mech suits to this list. Surely, more people are working on a mech suit, right?
Oh, we are eagerly awaiting Hacksmith's recreation of the Aliens Power Loader. That one will just be epic! If only they could make it operate exactly like the one in the movies then that one would definitely fit on this list.
If you are interested in even more technology-related articles and information from us here at Notilizer, then we have a lot to choose from.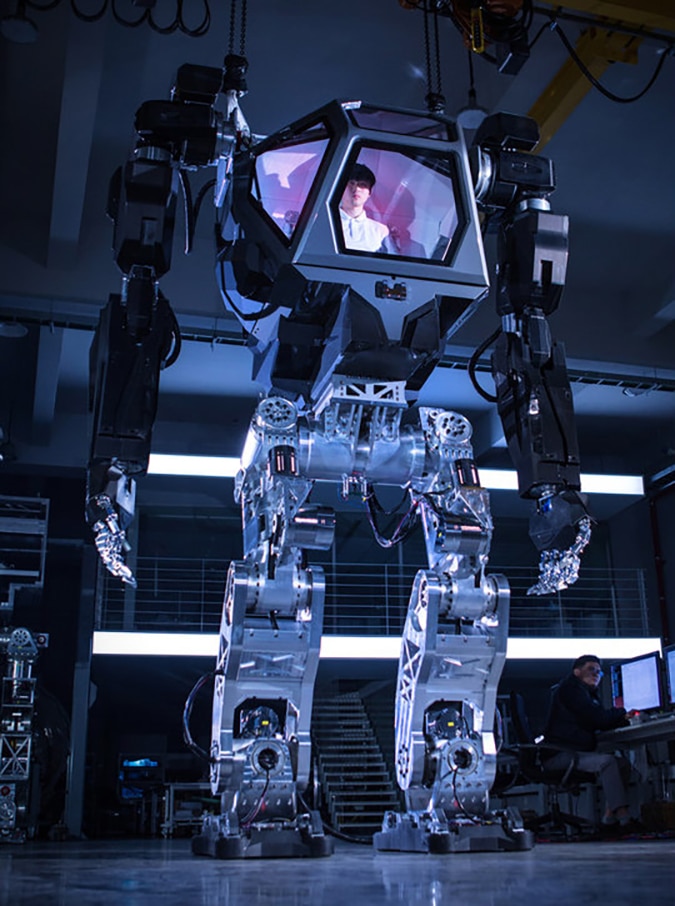 IMAGE: HANKOOK MIREA TECHNOLOGY