Japan has a reputation for fun and unique takes on technology. Their incorporation of robotics and AI into everyday life continues to grow with this new ingenious invention. Nissan has developed "self-parking" traditional Japanese slippers.
You can find them featured at Nissan's very own ryokan, located in Hakone, Japan. Ryokan is a Japanese term for a traditional styled inn that has existed for many centuries. Some are even Along with the slippers, automated remotes and seat cushions are featured in the rooms.
Each item will move about the room with attached mini-wheels, using Nissan's self-driving technology to find its way. When no longer needed, a simple button press will instruct everything to return back to its original place.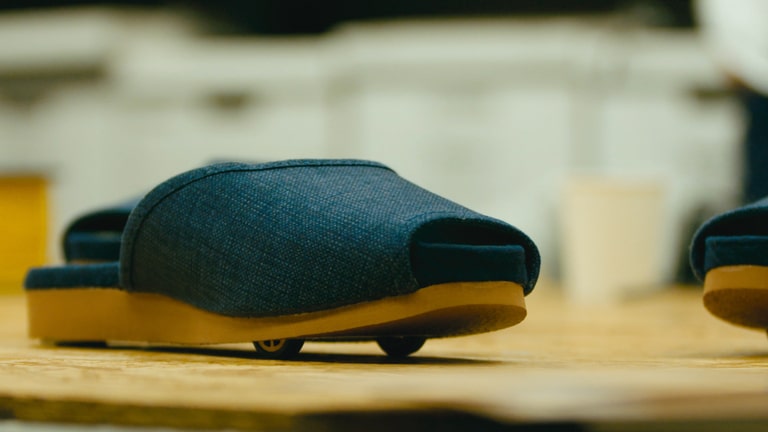 IMAGE: NISSAN
ProPilot Park
So, is this the future technology of Japanese inns? Well, probably not anytime soon. In reality, this was a unique demonstration to promote Nissan's ProPilot technology. In keeping with the recent driving technology trends, Nissan is also developing their own form of self-driving software.
The key to this technology is the image-processing. It allows the car to sense the environment around the driver and adapt to most situations to assist in safety. This is not a full replacement for having a driver. The use is also very situational and functions best between 30 to 100 km/h. However, we still think it adds a lot to keeping drivers safe on the highway.
Some of the features include speed control, automatic braking to keep a safe distance between other vehicles, and assisted steering in helping stay in lanes. All the information the vehicle needs to perform these functions is obtained through a single front-facing camera. Of course, the driver can disable or activate this feature at will.
The Future Of Self-Driving Cars
Right now, the ProPilot system is only intended for highway use in single-lane traffic but can handle moving around corners. It should prove useful in heavy traffic at various speeds. For drivers with long commutes, it will take away some of the stress of having to stay ultra-alert during dangerous rush over times.
Of course, it doesn't take all the responsibility off the driver. At least not yet. In the coming years, Nissan plans to develop this technology into a fully autonomous driving system further. This seems the be growing trend as more and more major automobile companies continue to feature forms of self-driving in their latest vehicles.
We can probably thank Tesla for being one of the first manufactures to popularize this design. Consumers seem to be responding well, as the idea of taking the burden of driving away opens up more opportunity in the car. Essentially turning your vehicle into a personal taxi and giving you more time for catching up on working, reading, or a little relaxation.
This technology was first featured in Nissan's Leaf electric vehicle but is now offered in a variety of models. If you are interested, look for the ProPilot Assist system for both adaptive cruise control and lane-centering steering. Some models only feature the cruise control and automatic stopping. It's an exciting time for automobile tech, so keep an eye on the news for upcoming developments!
If you are interested in more technology-related articles and information from us here at Notilizer, then we have a lot to choose from.
IMAGE: NISSAN